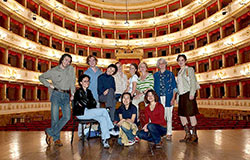 ROMANICA - School recognized by the Italian Ministry of Education Member of ASILS, AIL, CSN Sweden, Bildungsurlaub Berlin CILS, CELI and AIL examination centre - DITALS training and examination centre for the teaching of italian

Since 1998 ROMANICA offers courses to students of all ages and all nationalities, as well as a wide variety of activities during students' free time. ROMANICA is located in Modena. Its classrooms, in an eighteenth-century building decorated with frescoes, are a point of departure from which students will discover the everyday rhythms of this beautiful and extremely liveable city.

TEACHING METHOD AND STAFF - We will be your teachers during your stay in Modena, and we would like to give you some insight into our qualifications, experience, and above all our enthusiasm. Since receiving our university degrees, we have specialized in the teaching of Italian as a foreign language. Romanica's courses - organized according to the methods for the teaching of foreign languages set out by the Council of Europe - are the fruits of our labours, both as individuals and as a team. The aim of our programme is communication. Pronunciation, vocabulary, and the grammatical structures of the Italian language are always presented in context, in order to develop comprehension, reading, speaking, and writing skills.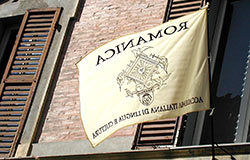 INTENSIVE GROUP COURSE begin on Mondays with an accurate placement test which allows us to evaluate your familiarity with the language and to form classes composed of students all at the same level. There are five levels in all: beginner, elementary, intermediate I, intermediate II and advanced.

ATTENDANCE AND LANGUAGE ACQUISITION CERTIFICATE - At the end of your course, after you have taken the final test, Romanica will present you with an attendance certificate indicating the level of Italian language achieved.

DIDACTIC MATERIAL is consistently reviewed according to the needs of groups and individuals so as to provide optimal support in improving communication skills. Your active participation allows you to learn Italian in a friendly and engaging environment. The material is included in the price of the course.

AFTER LESSONS ROMANICA remains open, giving you access to the library which houses books, newspapers and and a collection of over 350 dvd. In addition, the school offers Internet access, Wi-Fi, a refreshment area and a music area.

ROMANICA organizes a programme for your free time which is included as part of your course and parallels with the language study in its content. You will have the opportunity to participate in a wide variety of activities that will allow you to feel at home in the city and help you to get to know our culture and our history. Excursions, concerts and visits to museums organized by the school and open to all. You can spend an unusual afternoon experiencing the rituals of vinegar-making, or on a farm observing the phases of production of Parmigiano cheese, or in Maranello, taking a peek at the Ferrari test track or its factory workshops. You will have the chance to sing along with «Rossini», or simply enjoy an aperitif and then sit down with friends taking in the intoxicating smells of the delicious dishes of Modena's celebrated cuisine. Upon your arrival you will receive the programme of the complementary activities which will keep you busy for 6 additional hours each week.

A HISTORIC university town, Modena is situated in Emilia- Romagna, a northern-central region of Italy. With its 200,000 inhabitants, it is both tranquil and lively, a place where modern living and tradition meet and complement one another. The people who live here are open and friendly: in the shops or on the streets there is always someone willing to stop for a chat. Unlike better-known Italian cities that appear on every tourist's itinerary, Modena offers you the chance to hear Italian spoken on every corner.

If you wish, Romanica will reserve accomodation for your stay