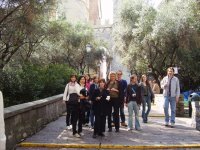 A Door to Italy - Scuola di Italiano per Stranieri, founded in 2002, is the oldest established language school in Genoa. It specialises in the successful organisation of every aspect of study holidays: your outward journey; your accommodation (whether a home- stay with a family, in a bed and breakfast, a hotel, or an apartment); language courses, taught by specialised and experienced teachers in spacious premises; and a programme of additional social activities such as guided tours of the city, visits to museums, and an opportunity to enjoy the special cuisine and products of Genoa. All the courses are offered all year round in our new premises in the heart of the town.

The school is located in an elegant and fascinating 19th century building and offers to its students large and sunny classrooms, a long balcony to a lounge area with coffee and snacks, daily newspapers, free internet points and also wireless internet available, a furnished library and an information point about cultural and leisure activities. The teachers and the method: The teachers are highly qualified and experienced. All are native speakers of Italian who are career language teachers, often with experience of teaching Italian in other countries. They all have recognised qualifications. At school we use the communicative method, preferring oral communication but not disregarding aspects of written communication, focusing on the four language abilities (listening, speaking, reading, writing).

The didactical material is rich and various. The official book is created and provided by the school. Each level has its own book, which is supplied at the beginning of the course. All additional didactical material is drawn from newspapers, magazines, multimedia material and video. At the end of any course, by a minimum frequency of 80% of the lessons, the school gives a certificate of attendance.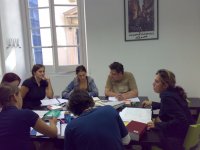 The Courses
A Door to Italy offers a wide variety of general and specialised courses, geared to the specific needs of our students. Courses are catered for groups or individuals and for people coming from different countries and with different purposes. Groups are mixed and open to a maximum of 8 students, each with different language and cultural backgrounds, which makes the group and the lessons very interesting and the learning process particularly fast. Courses are available all year round, with starting dates every other Monday. The general Italian language courses have six levels (corresponding to the Common European Framework of languages). To asses the level each new student is required to take the entry test, both written and oral.

We also offer courses combining Italian language and culture, ranging from literature and history to cookery and local crafts, other classes cover the language of wine and food. More targeted courses offer Italian for professionals, such as Italian for business (spoken and written), Italian for law, Italian for healthcare, Italian for hoteliers and for the tourist industry, Italian language of opera.

The accommodation
A Door to Italy offers participants a variety of housing options in Genoa upon request for the duration of their course. Our students can choose to live with an Italian family, in a hotel of various categories, in shared apartments with other students or in private apartments. All of our accommodation arrangements are carefully selected and conveniently located close to the school.

Extra curricular activities
Living in Italy - even if it is only for a short time - is a unique experience, full of opportunities. Genoa is a lively city, with an exciting cultural scene. The city offers a broad range of events throughout the year to satisfy the tastes of all age groups. The school's cultural program makes it possible for you to enjoy the city and its events while learning Italian!