TRAPANI, THE IDEAL LOCATION FOR YOUR SUMMER COURSES


TRAPANI'S GEOGRAPHY
Trapani is one of the most enjoyable towns in Sicily: located in an incomparable natural scenery, it rises between the sea and the mountains, framed by the Egadi islands on the West and Mount Erice on the East. The Trapani district counts no less than eight environmental reserves: just to mention a few, the Stagnone lagoon, the Egadi archipelago, Lo Zingaro.

TRAPANI'S HISTORY
Trapani's luxurious landscape can only be matched by its lavish cultural heritage, that includes such disparate and impressive testimony as Segesta's temple and theatre, Erice's medieval town, Mozia's Phoenician site, Selinunte's Greek acropolis.

A CITY ON A HUMAN SCALE
Trapani itself is a city on a human scale, the ideal size to walk and cycle through, it is not too crowded, it has delicious fish and sea-food and, of course, a cristal-clear sea. Trapani is very well connected to the surrounding sea and mountain resorts: the islands of Favignana and Levanzo are just 15 minutes away by boat, while the top of Mount Erice and the town of Erice itself is only 10 minutes away by cable-car. Weather conditions are ideal too: the heat in Trapani is never muggy, thanks to the breeze that blows constantly from the sea.

SCUOLA VIRGILIO
In the heart of car-free downtown Trapani, less than two minutes from the closest sandy beach, Scuola Virgilio offers Italian language courses to small groups of 3-9 students of all ages (from 16 y.o.) and nationalities. Standard courses last 15 hours a week. Teaching aids are provided by the school. The young multilingual staff is there to help students make the most of their stay in Trapani and make Scuola Virgilio a fulfilling learning and leisure experience.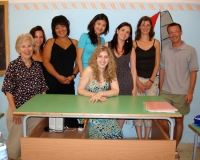 A TYPICAL DAY WITH US
Here is the typical day you'll spend in Trapani: 9.30 pm -1am: Italian classes, with a long pause at 11am for a cappuccino or a granita. 2-3 pm: Quick lunch at your place or in one of the many salad bars in town. 4-7pm: You can either attend our optional courses and seminars, or go out for an excursion in one of the many historical and natural sites around Trapani, or... go shopping, go to the beach, ride your bike to discover new places... 7pm-... You can attend our cooking class, followed by a typical Italian/Sicilian dinner, from "aperitivo" down to "ammazzacaffè". And the best is yet to come...

2 weeks Italian course + shared flat accommodation from 490€. Special discounts for groups and students under 26 yo. Looking forward to welcoming you next summer!