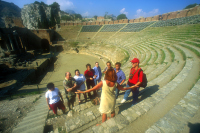 Taormina is perfectly situated to offer easy access to the beautiful and historically important treasures of Sicily: the ideal place to combine a study abroad program & vacation! In this small historical, internationally renowned town, personal and social contacts are easily made and welcomed by residents.
As W. Goethe wrote in 1786: "Without Sicily, Italy cannot be fully understood. It is here one finds the key to all things". We would love to welcome you and give you the opportunity to enjoy a personal, cultural and educational experience here with us.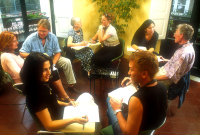 BABILONIA - Italian language school - in Taormina, Sicily focuses on giving to the student/traveller the opportunity to not only learn Italian, but the chance to discover the history, the traditions and the surroundings of Sicily.
With this motivation in mind, in combination with the language courses, we suggest considering enrolling in a Cooking course or Eco-tours hikings), Arts & Crafts or Culture courses (Literature, History, Art history), Golf or Adventure sports (from paragliding to scuba-diving, from mountain-biking to climbing).

Language is not just a set of grammar rules, language is above all the result of a way of seeing the world, is a different eye on reality, is a way of interpreting life.
That's what BABILONIA would like to offer to you!