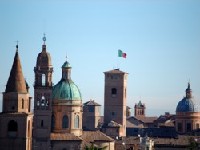 Reggio Lingua is a specialized language centre for teaching Italian language and culture to people of all ages from any nationality. Courses are offered the whole year and they are organized into levels, with a limited number of students in each class in order to facilitate the students' active participation and to encourage a quiet and relaxed working environment. The school offers the possibility to meet new people, with organized evenings in local hot spots, afternoons dedicated to making homemade pasta, trips to trade fairs, guided tours of the town, nature hikes, as well as visits to local wineries and cheese and balsamic vinegar producers. It is located in an ancient building in the historical town centre.

Reggio Lingua organizes:

- Study Italian Abroad Programs: small group courses of 20 hours, every week + some excursions in the free time - guided tour of Reggio Emilia, excursion to Matilde di Canossa's castle and the Apennines, visits to Parmesan cheese, balsamic vinegar and wine producers, trip to near towns,...

- Italian classes: these classes can be group courses or individual lessons. Students can choose among modules of 20/30/40/50/60/80 hours of class with the possibility of more lessons in a week, to be done in the period of their stay, according to their needs. The school also organizes individual or group courses to prepare those students who wish to get CILS or CELI certifications.

- Italian Family Homestay courses: "Homestay course" means private Italian tutorials at a qualified Italian teacher's house. The teacher will host a student and will be at his/her disposal not only to offer regular Italian language tutorials, but also to promote the different aspects of the local culture and Italian family life. The student will have the possibility to participate in the Italian tutor's social and family life and will therefore be able to learn Italian in every moment of the day, chatting in a relaxed way with the teacher and the teacher's family, going to the cinema, to the theatre, visiting friends or shopping. This is the ideal solution for those who need to learn as much as possible in a short period of time and for those interested in entering in direct contact with our country's family life and culture without interference with their mother tongue. Italian tutors are carefully selected and constantly monitored.

- Cooking courses: the cooking courses consist of daily classes of three hours and they last 3 or 5 days. Together with our outgoing and friendly chef, students will learn to prepare the typical dishes of Reggio Emilia: tortelli, lasagne, cappelletti, erbazzone, different types of condiments for pasta, and traditional desserts. They will eat for lunch what they have cooked together. They will also visit local wine cellars, Parmesan cheese producers and balsamic vinegar producers. The courses are held at a local "agriturismo" where rooms are available for overnight accommodation. It is located 4 kms from the centre of Reggio Emilia and is easily reached by bus or by bicycle.

During your stay, the owners can offer many possible activities such as: golf, horseback riding, mountain biking, and nature hikes through the Reggiana hills.