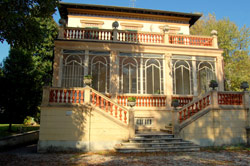 Lucca Italian School is located in a beautiful villa with garden inside the city walls, adjacent to the San Francesco square and the restored ancient cloisters of the monastery, now a conference and study center. All major attractions of the city, Via Fillungo, Piazza San Frediano, Piazza Anfiteatro, the Guinigi Tower are all close by.

At about 15 minutes walking distance are the railway and bus stations with hourly connections to the cities and airports of Pisa and Florence

The location of the city allows to easily visit all the beauties of Tuscany, including Florence, Pisa, Siena, the beaches of Versilia and the mountains of Garfagnana, not to mention the area around Lucca with its magnificent villas and wine farms. Our Italian courses aim to give participants the tools to interpret Italian life, using language as the key to decoding our society and our culture, in the broadest sense.

Our school offers a method based on the centrality of the learner and on real communication. To this purpose we apply an integrated approach consisting of all modern language teaching techniques and strategies, useful to meet the real linguistic needs of the students and to be able to personalize the learning process even within a group.

Lucca Italian School considers the language not merely a system of rules, but above all the main tool to communicate, comprehend and express oneself in real contexts, adequately displayed in class through the use of authentic materials and outside through a direct contact with native speakers. As we are presenting an integrated approach, our method in no way disregards the learning of grammar, syntax, phonology and vocabulary: on the contrary, it is our aim to deepen also these aspects, in order to provide our students with all possible keys to interpret the italian culture while enhancing their communicative competence.

We offer four different levels of Italian language group courses, applicable to European parameters A1, A2, B1 and B2-C1. In individual lessons, we also offer the C2 level. All of the Italian language teachers at Lucca Italian School are native speakers and highly qualified experts in teaching Italian to foreigners with years of experience.

They are serious, motivated, patient and enthusiastic and do this job not only with professionalism but also with passion. For a detailed description of the various courses offer, please refer to our website Besides our language courses, we offer many cultural and recreational activities to give students the opportunity to learn more about Italy and the region of Lucca, in a non conventional manner, meet new people in a multicultural environment, get to know some very interesting spots, outside the classic tour, and experience and participate in authentic Italian social life.

As regards accommodation, you have the choice of living with a family in Lucca and enjoy the opportunity to come into direct contact with Italian life and our daily habits. The school is in constant contact with families who are carefully selected and consider having a foreign guest as a chance to expand their own horizons.

You will have your own private room and can choose between half board, or if you prefer, breakfast only. Students can also choose their own living arrangements in Lucca, as the city offers various types of accommodation, including apartments. If need be, the school is available to provide information on accommodation options.