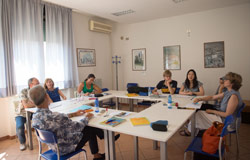 The Idea Verona Study Centre is the first school of Italian language and culture for foreigners located in the historical city centre of Verona, the magical city of Romeo and Juliet, placed close the Alps and famous Garda Lake.

Idea Verona is:
located in a newly renovated independent building inside a private school called "Istituto Salesiano Don Bosco", situated right in the centre of the city, close to the Medieval Castle and only a few meters away from the famous Arena and Piazza Erbe. The school is situated in a large, pleasant and secure area, with concierge, courtyards, garden and indoor catering services. It entirely covered by Wi-Fi, is equipped with bright, spacious and comfortable rooms with air conditioning, two of them with pianos, a computer workstation to surf the Internet free and a secretary available for students
licensed ISO 9001:2008 for the courses offered
an official centre PLIDA (Società Dante Alighieri) for the certification of any level of knowledge of the Italian language
an associated member of A.I.L (Accademia Italiana di Lingua)
accredited to impart semesters and university programs
accredited by BILDUNGSURLAUB Hamburg
in partnership with the Arena di Verona Foundation for the purchase of tickets at reduced prices for events at the Philharmonic Theatre and the Opera Festival at the Arena.
Idea Verona offers:
intensive and extensive, group courses of language and culture for all levels of knowledge of Italian language
individual and on-line courses focused on the student's goals, also through the study of the Italian arts and culture
Plida Exam Preparation Courses cater to those who want to prepare to get the official certification of the Dante Alighieri Society
group, individual and on-line courses addressed to the companies. The lessons can be held in the company office
study abroad programs in European secondary schools and universities overseas
weekly workshops and recreational activities (wine tasting, cooking class, guided tours, Painting and fresco workshop, Oil factory visits situated on Garda Lake and more)
masterclass for high-grade musical training in the symphonic and opera area
help in order to provide accommodation and assistance for the study visa papers.

The school uses dynamic methods of teaching, encouraging active participation of students. Our teachers are all qualified, experienced and constantly updated on methodologies for teaching Italian L2. All come from diverse training backgrounds and professional experiences to ensure the group's continuous enrichment and allow the school to offer a vast educational opportunity. The team meets daily under the careful guidance of the educational coordinator who is also responsible for testing and orientation interviews with new students.