Turin is certainly a place of high cultural interest due to its history and all events offered in these last years. The whole Piedmont region grants beautiful journeys of historical (Sacra S. Michele, Forte Exilles, Medioeval Castles), artistic and cookery interest (Fiera del Tartufo, Cheese, Go Wine, Open Wineries, farm tourism). And near Turin you can go to the beautiful Alpes for an exciting skiing excursion.

Dialogo Language Services is located in the heart of Turin in a very lively area closed to the Valentino Park and the University and it is easily reachable. 10-year-long experience in teaching to foreigners of different nationalities with varied levels of knowledge of Italian enables our staff to offer a wide range of services: ITALIAN COURSES FOR FOREIGNERS, "INCONTRO ALL'ITALIANO" and "DIVERTIAMOCI IN ITALIANO" programs.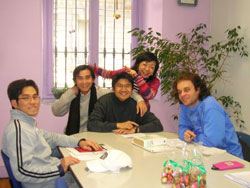 We tailor our courses to our students needs and expectations and use a communicative method, helping students to use Italian in a variety of real life situations, stimulating their interest and creativity since beginning.

INTESIVE COURSES - 20 units per week, 4 units a day with flexible schedules.
ESTENSIVE COURSES - 4 units per week, 2 times a week. Or 120 units from September to February or from February to July.
TWO-TO-ONE COURSES. ONE-TO-ONE COURSES. PREPARATION COURSES FOR TELC AND CILS CERTIFICATES - 60 units. Students are tested individually on enrolment and placed in the most appropriate level.
Courses for A1, A2, B1, B2, C1 and C2 levels. Groups include 3 - 8 participants. Courses can be held also directly at companies premises.

Teachers are qualified and highly experienced. Learning materials are included in the course prices.
At the end of each course students will receive a certificate of attendance reporting the reached level.
The school assists participants in finding suitable accommodation in Turin.

INCONTRO ALL'ITALIANO: evening program for those who want to chat, discuss, read and listen to Italian. A way of meeting others and improving the knowledge of the language. All evenings are held by qualified staff with experience in each field.
- Parole in libertà: discussing about daily themes, newspaper articles or matters of personal interest.
- Leggiamo Italiano: reading and analyzing literary Italian texts.
- L'Italiano al Cinema: watch and understand the language and cultural background of Italian movies.
- L'Italiano e l'Opera: listen to the most famous arias and understand their fascinating language.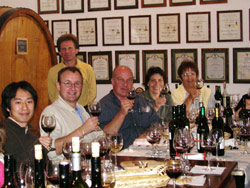 DIVERTIAMOCI IN ITALIANO: thought for all those who want to study the Italian language in the relaxed atmosphere combining culture and pleasure, appreciating the beauty of Turin and Piedmont.
- Italian & Cuisine: one week in the heart of the Langhe discovering the secrets of the Italian language and of the traditional Piedmontese and biological cuisine with the Chef Fausto Carrara. 9 units of Italian, cooking course for 3 full days, wine tasting and visit to local producers (chocolate & cheese).
- Italian & Golf: aimed to whom want to study Italian in the relaxing atmosphere of the Golf Club practising their favourite sport. Golf Weekend: 4 units of Italian. Golf Week: 10 units of Italian.
- Italian on Holiday: a perfect combination of study, relax and excursion in Turin or in the enchanting wine area of the Langhe. Relax Weekend: 6 units of Italian. Relax Week:15 units of Italian.

For all courses accommodation is in Hotel or B&B. Italian lessons in Turin are held at the school, Italian lessons out of Turin are held directly at the hotel or B&B. Each package includes guiding services that participants can choose according to their preferences.

Dialogo Language Services can organize other tailored programs for groups who require it.
All language courses and leisure programs are available all year round.
For infos and prices the school office is open from Monday to Friday from 10.00am to 6.00pm.