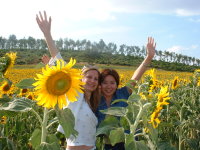 Our Italian courses consist of four hours of lessons in the morning, from 9:00 a.m. to 1:00 p.m., from Monday to Friday. The lessons are held in comfortable settings with small homogeneous groups (maximum eight students) in order to deepen students' structural understanding of the language, thereby increasing both comprehension and communication capacities by amplifying their lexical, phraseological and idiomatic learning expressions and databases. We organize group or individual courses, private instruction, preparatory courses for exams and certification (all levels).

La Lingua La Vita teachers also help prepare students who wish to take the CELI exams at the University for Foreign Students in Perugia. The teaching approach of La Lingua La Vita is strongly functional with a focus on aspects of language interaction within different thematic sectors. The primary scope is to strengthen all communicative and comprehension skills in the Italian language with a corresponding enlargement of vocabulary, phraseology and use of idiomatic expressions. The approach is realized through authentic communicative contexts and in recurrent and frequent situations that stimulate systematic practice on the four basic language abilities: listening, talking, reading and writing.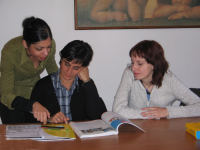 In 2005 the school has perfected a new teaching method, called "Beyond Language", based on the use of NLP techniques and upon overcoming various emotional blocks that prevent or slow language learning. The Beyond Language program aims to develop capabilities not normally used and permit 25-30% more learning compared to traditional methods. All La Lingua La Vita teachers and instructors are university graduates and are highly qualified to teach Italian as a second language.

La Lingua La Vita organized many cultural activities such as cooking and pastry courses, painting and ceramic course, wine and oil tastings, guided trips to the nearby historical cities and so on! Having been selected personally by the owner and founder of La Lingua La Vita, our host families are warm and hospitable and most have been working with us for many years. There is also the possibility of staying in the private homes and apartments of our instructors, some of whom make rooms and available to students.

All of our host homes are close to Todi's historical center. By virtue of its geographic location, Todi is an ideal place to study the Italian language. It has a welcoming ambiance and friendly atmosphere allowing a chance for students, teachers and residents to naturally create a favorable climate for language learning through full immersion into Italian social and cultural life. A stay over in Todi not only offers the chance to learn the language but also - and most importantly - the possibility to practice it constantly through direct participation in cultural events typical of the area, allowing students to savor a real taste of living in Italy.

La Lingua La Vita has created many Italian programs to cater to the growing needs of its students. Choose Italian made to measure: ITALIAN FOR THE OVER 50, ITALIAN FOR THE WHOLE FAMILY, TRAVELLING ITALIAN, ITALIAN while touring Umbria, CULINARY Italian, Italian and Art, STROLLING in Italian, Then comes Italian and the BABY CARRIAGE, BUSINESS Italian, CUSTOM-TAILORED Italian, Italian ONLINE, Academic programs in joint collaboration with some American universities.