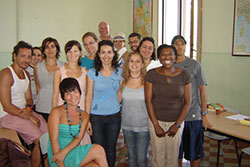 The School
Sant'Anna Institute-Sorrento Lingue (SASL) was founded in 1998 as Sorrento Lingue. The school, recognised and accredited by the Italian Ministry of Education, is positioned in the historic centre of Sorrento.

Sorrento
Sorrento is a small town with a cosmopolitan feel situated on the west coast of Italy, twenty miles south of the city of Naples, on the spectacular Sorrento Peninsula. Within easy reach of Sorrento are the stunning islands of Capri and Ischia, the amazing Amalfi Coast, Paestum, Pompeii and Herculaneum, and of course, Mount Vesuvius.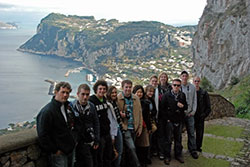 The school offers an accommodation service. You can choose from the following alternatives: Host Family Accommodation, Students' House Accommodation, Residential Accommodation, Hotel Accommodation

The school offers an extensive cultural program including cultural lesson, group or private excursions, cooking courses, ice-cream making courses, singing lessons, ceramics course, diving, visit to Agriturism, visit to Mozzarella cheese factory, visit to Limoncello factory.