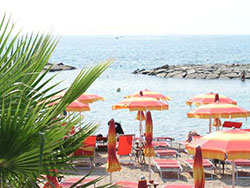 Learn Italian while you relax on the sunny Italian Riviera. Poliedro is the language school for those in love with the Italian language and prides itself on its friendly family atmosphere. A team of qualified and welcoming professionals is available to offer students all the assistance they may require during their stay.

Emphasis is on the oral aspect of the language and classes do not exceed 8 students. Standard, intensive and individual courses are available at all levels. San Bartolomeo al Mare: San Bartolomeo al Mare lies at the centre of a wide bay, between Diano Marina and Cervo Ligure, in a landscape dominated by the azure sea. Our town is famous for its climate, the long sunny days, and its average of 300 fine-weather days a year. The average temperature in winter is 15°, and in summer 30°.

You can relax on the beach, explore the inland area with its old churches surrounded by centuries-old olive trees, or maybe practise a sport. There is a surfing and sailing school; various walking or cycling routes; and tennis courts and golf courses less than half an hour away.

Teaching methods
From the very first day of class, we speak only Italian. But don't worry! Our teachers are specially prepared to communicate in a way that is both fun and easy to understand thanks to our methods and teaching materials, developed over our fifteen years of experience. While oral communication is the main objective of our courses, it is also necessary to touch upon areas of Italian grammar. This will by no means be dull though.

We include newspaper articles, audiovisuals and entertaining games to encourage our students to get to know each other, engage in discussion and fall in love with Italy. The maximum number of students per class is eight, though there are often only four or five: enough space for everyone to participate and get to know each other. What do we ask of you? Only a little curiosity, enthusiasm and group spirit.

Staff and services
All our staff are available to assist students during their stay in San Bartolomeo al Mare, and in the office we speak English, French and German. Our teachers, all native Italian speakers, are university graduates with experience in teaching Italian as a foreign language. Meanwhile, a travel agency linked to the school offers help and advice for trips and excursions


Available to students
- Free internet connection for students
- library of Italian authors and reading materials designed especially for foreign readers
- Video library with a collection of films by Italian cinematographers
- Baby-sitting service on payment (N.B. there is also a nursery school in San Bartolomeo, open all year round and is available on an hours-per-day basis)

At Poliedro you can attend various language and cultural courses, like Italian standard course 20 lessons per week in groups of 8 students max 4 hours of class per day from Monday to Friday.

Ideal for those who wish to learn the Italian language, while also having time to discover the Mediterranean lifestyle and visit the surrounding area. Italian intensive course 30 lessons per week - 20 hours of group classes and 10 hours of one-to-one tuition 4 hours of class per day from Monday to Friday in groups of 8 students max. + 2 hours of one-to-one tuition per day. An ideal course for those who are particularly keen to improve their linguistic competence and optimise the time devoted to learning. Italian one-to-one intensive course A minimum of 10 hours of class per week.

Flexible Italian lessons structured around the individual requirements of the student.

Special courses:
- Italian for business
- Italian for tourism
- Italian for fashion
- Legal Italian
- Cookery course

Would you like to surprise your friends with an authentic Italian dinner? Then come to one of our cookery evenings! Amidst a festive atmosphere at the home of one of the teachers, you will learn how to make a complete menu with typical regional recipes.