Accademia Italiana offers Italian courses all year round since 1997. The school, of the highest quality, has the most important accreditations: Italian Ministry of Education, University for Foreigners of Siena and of Perugia for the official Certifications and it is also a member of ASILS and IALC.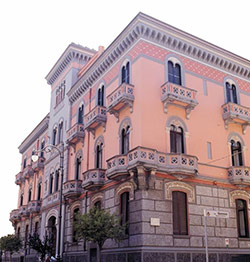 Accademia Italiana is situated by the seaside in Salerno (South Italy). Salerno is the typical Italian mid-sized city where you can experience the real Italian life due to the absence of the mass tourism. The city is strategically located and from Salerno you can easily reach its wonderful surroundings such as: Amalfi Coast, Pompeii, Positano, Sorrento, Capri, Ischia, Cilento, etc.

Accademia Italiana offers: Italian General Courses (Standard, Intensive and Super Intensive), Examination Courses, Courses for Teachers, Courses for Professionals, Internship, 50 Plus, Language Food and Wine, Family Program, Junior Program, Art and Culture Courses, Seasonal Programs (New Year, Easter, Mid-Summer and Autumn Programs).

For U.S. university students our school offers Summer Programs, Semester Programs, Faculty Led programs, High School & College Credits, AP College Preparation. Accademia Italiana works with qualified Advisors for assessing credit transfers.

The school has 14 classrooms, 1multimedial room with 8 computers all connected to Internet (cable and wi-fi), 1 cinema room, a library with both books and videos and a cafè.

All the staff and teachers are highly qualified and specialized in teaching Italian as a foreign language.
Accademia Italiana is also an examination centre for DITALS, CILS and CELI and it is authorized by the University for Foreigners of Siena and the University for Foreigners of Perugia.

Different accommodation options are offered: Homestay, Shared apartment, Private studio/apartment, Hotel/guesthouse.