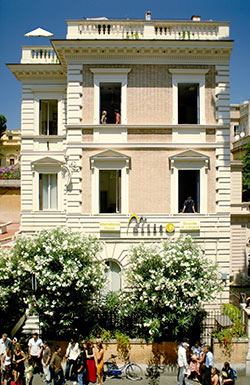 The school is located in the center of Rome, a few steps from the central station (Termini), easy to reach from every part of the city.

In the school, an Art Nouveau villa of 5 floors, there are 11 classrooms. The school also has 5 more classrooms in an annex located 50 meters from the main building.

In the basement there is a cafeteria and a snack bar; the school has free WiFi, air conditioning in the classrooms, a small garden and two terraces available to students.

The school offers many different types of courses and programs. There are intensive group courses (20, 25 or 30 lessons per week), individual courses, special courses, such as "Italian + Italian Home-Cooking", "Italian through Architecture", "Italian through Photography", etc.

There are courses for all levels, from beginners to advanced. Students who already have a knowledge of Italian can start a course after a placement test on any Monday.

For students who attend intensive courses, the school offers an accommodation service. Students can choose to stay in an Italian family or in a shared apartment with other students of the school.

The school also offers an extensive program of leisure activities (for the most part free of charge) such as walkings in the city, seminars, guided tours, cocktail parties, etc.

Dilit International House, officially authorized by the Italian Ministry of Education, University and Research, was one of the first Italian language schools and today is recognized and considered as one of the most prestigious Italian schools in Italy. It 'was one of the first schools associated to' IH World Organization, which today includes more than 150 language schools in more than 50 nations.
Dilit is a member of IALC (International Association of Language Centres).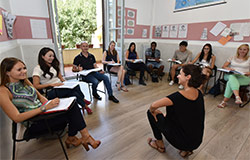 The quality of teaching and the services offered are guaranteed by its association to EAQUALS (European Association for Quality Language Services).

The school is an examination centre for CELI certificate, examination of the University of Perugia, and CILS certificate, examination of the University of Siena. Dilit is also well known and appreciated in Italy and abroad for the Teachers Training Department and Research, accredited by the Ministry of Education, and for the publication of textbooks and other teaching material.