Cinque Terre Summer School will be teaching you Italian language as well as Italian culture and it's located in Riomaggiore, right in the middle of Cinque Terre, well known to be both a National Park as well as a Unesco world heritage.
That is the place where we have developed an original and innovative learning experience, a school surrounded by a uniquely wonderful environment in order to make your Italian language education process more pleasant, thus faster and long-lasting.

Cinque Terre, in spite of the recent touristic boom, are preserving their own identity made of 5 tiny villages where everybody know each other and life is still people-oriented.
It is a perfect background to learn a second language, it is a microcosm where school spreads into the territory and the whole community itself becomes a school.

Cinque Terre Summer School is offering classes starting from level A1, open to everyone (students, workers, pensioners) ready to learn Italian language and culture, as long as adult of age.

Our summer school learnig offer is rich and varied, in fact we provide several different lessons:

Italian Language Lessons
Given by specialized Italian language teachers, these lessons are split between "Italian language" and "development of oral skills", for a complete immersion into your second language.

Culture Lessons
At lower language level these lessons are the opportunity to get close to Italian culture, whereas at higer language level they envisage deep analysis of different branches of knowledge such as Italian History, Italian Literature, Italian Art History and Italian Cinema.

Workshops
They are meant to be learning situations linked to local Cinque Terre territory and such as: traditional cuisine, visit by a local wine-maker including wineyard tour and wine tasting, photography, folk music, trekking in the Park.
These are, among many others, our workshops to provide our students with both an exciting learning process and responsible tourism.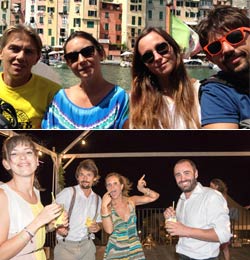 Cinque Terre Summer School offers the following types of courses:

SUMMER SCHOOL
Italian Language Lessons + Cultural Lesson + Workshops: 40 hours per week for 3 weeks.
Total of 129 hours, corresponding to 6 university credits.

BASIC LANGUAGE COURSE
Italian Language Lessons + Cultural Lessons: 23 hours per week.

INTENSIVE LANGUAGE COURSE
Italian Language Lessons + Cultural Lesson + Workshops: 35 hours per week.

WORKSHOPS
12 hours per week

For anybody with specific needs, it is possible to request a customised course by contacting us.

Time table is scheduled for Italian language and culture lessons in the morning, workshops to discover local culture and territory in the afternoon, entertaining activities in the evening.

Considering that a summer school should be even and above all an unforgettable holyday, we le tour students all necessary time to enjoy Cinque Terre sea, sun and everything else. For a wonderful experience they will always remember.

Hospitality: the school is not in charge for students accommodations but manages an informational page on our website and establishes partnerships with facilities offering discounted tariffs, according to the length of the stay. Among these facilities, there are bar, restaurants and a transfer service.