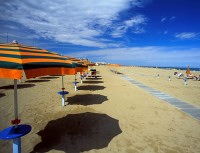 Learn the language and culture of Italy in the exciting and vibrant city of Rimini.
Rimini is located on the Adriatic coast and is one of the most well-known and exclusive seaside resorts of the Riviera. The beach is long, miles and miles long, peppered with sunbeds and umbrellas, bars and restaurants, sport and recreational facilities and the opportunity to enjoy many aquatic sports. The city has an old historical centre, always popular and full of life; rich in important monuments and ruins of ancient civilizations. The opportunities, cultural or just for fun, are always present in Rimini, a big town, which in recent years has grown to become a large city, cosmopolitan and diverse, always hospitable and friendly towards visitors.

THE SCHOOL
Rimini Academy is a linguistic centre that was created in 1994 in order to teach the Italian language to foreigners. Our school welcomes students throughout the year from all over the world; the atmosphere is very informal and each student receives personal attention from the teachers. The classroom environment is very friendly but at the same time extremely professional. All of our teachers are experts in the teaching of the Italian language and have 10 to 15 years experience, teaching in Italy and also abroad and continue to attend courses and seminars to keep up-to-date within the teaching sector.

THE COURSES
The choice of courses is large and diverse. They are designed to meet the needs and requirements of the students who are able to choose, for example, between standard courses, intensive courses and professional courses. In recent years we have looked to promote, with success, individual courses also, that more and more people are choosing thanks to the high quality and value of said courses.

ACCOMMODATION
Competitive prices, professionalism and experience are the strong points of Rimini Academy. Here, every student is considered a guest, and considered a friend by all our staff and teachers. The accommodation of our students is therefore very important. The families, with whom we have collaborated with for many years, look after our students with particular care and attention and offer a high level of service. The apartments are simple, offering all basic services and are located close to public transport and the prices of these apartments are highly competitive.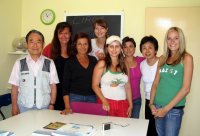 FREE TIME IN RIMINI
In your free time Rimini Academy offers the opportunity to pre-book excursions and other activities, choosing one of two packages: "Sea and Culture" or "Sea and Fun" that are offered at cost price. For anybody that doesn't wish to take advantage of these packages the school has prepared a brochure with all the tourist information that allows you to organize your own visits, excursions and free time in Rimini.

FURTHERMORE
The educational material used during the lessons has been produced by one of our teachers, Mrs. Bacci. The books "Un tuffo nell'azzurro" and "Un volo nell'azzurro" were published in 1998. Exercise books and key answer books have since been added, the original books are constantly updated and reprinted and are used by many European and Italian institutes as principle texts for lessons of Italian.

Rimini Academy also organizes group and individual courses of English using mother tongue teachers. Therefore we have decided to unite the two languages and we can now offer mixed intensive courses of Italian and English. This is made up of four hours of lessons per day, two hours of Italian and two hours of English. A great opportunity for all those students that want to study Italian and continue their study of English.

WHY CHOOSE RIMINI ACADEMY?
Because Rimini Academy is the perfect choice for a study holiday. It is easy to reach from anywhere in Europe, offering many varieties of accommodation and activities at really competitive prices and is in a perfect position for visiting the rest of Italy (e.g. an hour from Bologna, two hours from Florence, three hours from Venice, four hours from Rome). Rimini is known throughout the world as the capital of Italian tourism and is visited by people of all nationalities. Moreover it has a part full of things to see and enjoy; the historical centre, unknown by many tourists but full of colour and life,thanks in no small part to the plazas, the castles and the Roman and medieval remains of which there are many.
Rimini Academy is a friendly and hospitable school. Our staff have been with us for many years and their quality is shown by the number of students that return, year after year, to study at our school and also by the students' teachers that accompany them and continue to choose our school for their classes.