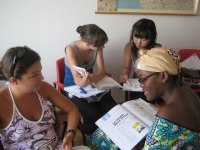 Founded in 1986, COMITATO LINGUISTICO is member of ASILS and EDUITALIA (association of the most renowned Italian teaching institutes with a strict quality criteria). The school offers courses exclusively for Italian as a foreign language all year round. Our objective is to teach in a friendly environment with a professional approach. It is very important for us to have personal contact with the students; the teachers and administration are always available regarding information and advice needed.

The school is situated in an elegant building in the historic center of Perugia. Large windows in every classroom give bright and breathtaking views of the green hills of Umbria.
All rooms are air conditioned and provided with modern teaching equipment. In the school there is free WI-FI and an internet point for students. During the breaks students can chat, have coffee and relax in a dedicated area.

Lessons are held from Monday to Friday and the duration of each lesson is 50 minutes. Our courses are set to the levels of the CEFR (Common European Framework of Reference for Languages).
A wide range of options, including "tailor-made courses," allows students to choose the type of course that best suits their needs.
A well structured program and standard text books combined with material conceived purposely for our courses are characteristics of our flexible and modern teaching methods. Conversation, grammar, comprehension and production of text, games etc. will help you to acquire an indispensable linguistic understanding for your studies or work. In all courses, each student has the possibility of actively participating. Group courses consist of a maximum of 10 students per class allowing personalized teaching and enabling all participants to communicate freely.
All courses are held by native Italian teachers with university qualifications and experience in teaching Italian to foreigners.

A warm welcome is given to each student. Our secretary's office is always open, available for every need, ready to give advice and information and to satisfy all requests, supporting students during their entire stay. The Comitato Linguistico provides for free the arranging and booking of accommodation for students, proposing solutions very close to the school. The school also manages transfers to and from airports.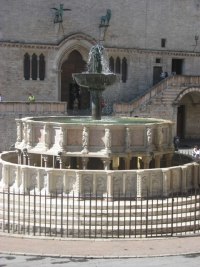 In your free time, you can participate in the numerous cultural activities organized by the school. City tours, excursions, films, visits to museums, cookery courses, wine and food tasting, international dinner etc. will make your stay in Perugia interesting and you will have the opportunity to put into practice your Italian.

Perugia, for centuries a university campus, is organized to provide services, activities, events and festivals of all kinds.
With its 170.000 inhabitants Perugia is, however, a city on a human scale, with a very high quality of life and, therefore, has all the qualities of a liveable city. The cultural value of this beautiful city, interweaving its history, art and traditions is breathed in every corner, in every square. The beauty and charm of the sights, parks and gardens, are harmoniously framed in its history. Its location in the centre of the peninsula offers a mild climate all year round and enables visitors to easily reach the most important cities of art in Italy.