OrbitLingua Our Italian language school is located in Orbetello
, a picturesque town on theTuscany coast, in the heart of the Maremma region, less than two hours from Rome, Florence, Pisa and Siena.
OrbitLingua, created in 2002, is situated in a quiet place just a short walk from the historical centre. It is surrounded by a beautiful garden, an ideal place to have lessons in the open air or to relax in your free time. The teachers are all Italian mother tongue with many years of teaching experience.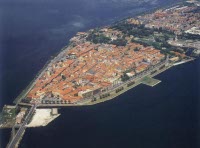 Orbetello lies on the Tuscany coast, in the heart of the Maremma region, pearl of the Costa d'Argento, in the centre of a sparkling lagoon, Orbetello is joined to the Argentario promontory by the two long, golden sand dunes, known as the Tomboli della Feniglia e della Giannella that offer the visitor kilometres of enchanting, unspoilt beaches interrupted here and there by inviting pine woods
.The spectacular views around the Monte Argentario offer a range of breathtaking scenery; high cliffs rising sheer from the sea, alternating inlets and bays where the transparent blue sea invites visitors to enjoy a relaxing swim. Just off the Monte Argentario coast, in less than an hour by ferry, are the islands of Giglio and Giannutri with their crystalline water and limpid seabeds that offer scuba divers an unforgettable experience. Among the many places close to Orbetello worth visiting, Porto Santo Stefano and Porto Ercole, picturesque fishing ports are certainly not to be missed. All this make Orbetello an ideal place for a study holiday in one of the most beautiful areas of Tuscany.
Italian Language Courses
Our language school offers a variety of Italian courses, suitable for all needs.
Standard course (20 hours a week) ; this type of course is perfect for those who want to combine study with other cultural and leisure activities in the afternoon
Combined course (20 hours group + 5 hours Individual lesson a week)
Intensive course (20 hours group + 10 hours Individual lesson a week)
Individual course: particularly suitable for business and professional people and all those who require tuition tailor-made to their individual needs.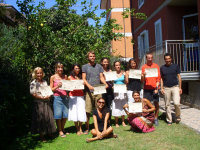 SUMMER JUNIOR COURSES
This course has been especially created for teenagers from 13 to 17 years old. It combines lively and entertaining lessons of Italian language and a rich and varied programme of supervised leisure, sport and cultural activities, visits and excursions which enable students to discover the many aspects of the Italian culture on a daily basis.It is possible to enroll for 2 to 8 weeks.
The programme includes
20 lessons of Italian language per week ( 9,15-13,15)
Host Family Accommodation on a Half Board basis (breakfast and dinner)
Lunch in a friendly "cafeteria" preparing a wide range of typical homemade Italian dishes
4 afternoons of beach, lagoon or sport activities per week
1 half day excursion per week (beach tour by boat, Terme di Saturnia)
1 full day excursion per week (Island of Giglio, Rome, Pisa or Siena)
Certificate of attendance
Placement Test of Italian on arrival and study materials
LANGUAGE COURSES FOR CLOSED GROUPS
OrbitLingua organizes Italian Courses for school groups on request of schools, teachers and agencies. We offer this programme for one or two weeks at a specific date of choice.

The Programme includes:
20 lessons of Italian language per week
Host Family Accommodation on a half board basis (breakfast and dinner)
5 afternoons activities per week
Certificate of attendance
On request we can organize a tailor-made programme according to your individual wishes and requirements. For 2 week programmes we also offer the opportunity to study one week in Orbetello and one week in one of our partner schools in Rome, Florence, Siena and Perugia.