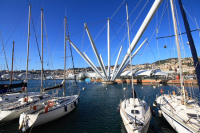 School & Philosophy
Scuola Tricolore is a young school. The school, its philosophy and method were founded, based on our own language experiences in Germany, Italy, Spain, the UK and the Netherlands. Before starting, the whole process of language learning was scrutinised. As a result Scuola Tricolore developed its own teaching method. Not just based on the communicative method, like many other schools, but also based on Edutainment. In short: learn Italian by interaction and participation, through fun and pleasure. You will not even notice you are learning Italian.

The Idea
Scuola Tricolore is about learning Italian in a personal and interactive way. We want to stay a small and familiar school. Scuola Tricolore stands for Quality, Transparency and Pleasure & Fun. At Scuola Tricolore we don't use pre-programmed study material. All material has been developed by the school following the structure of the European framework and is customised according to the group of students, lessons and levels.

Location
The School is located right in the city centre, in the University area. This location is very central and in the close proximity of shops and even more interesting, closes to the boulevard and the sea. The school has 5 brand new classes and a separate relax room for the students where free internet is always available and where you can take a coffee, read a newspaper, borrow a book from our large library or talk to your fellow students. The atmosphere of the school is open, friendly and familiar. The philosophy is to create a study centre surrounded by pleasure and fun. Thus, our method of teaching, as the teachers' selection, is to emphasise and support this philosophy. You will be positively surprised!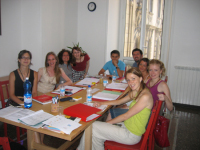 Courses
There are 6 different levels and there are three different course types. Scuola Tricolore offers a standard group course of 20 hours a week, individual courses of 2 or 4 hours a day, 3 or 5 days a week. Last but not least, mixed courses are offered, consisting of group classes supplemented with individual hours, ranging from 4 hours up to 10 hours a week. The duration of the courses is available from one week up to a year. The maximum class size is 10 students, to guarantee the quality in terms of personal attention. Group- and mixed courses start every two weeks on Monday. Individual courses start every Monday.