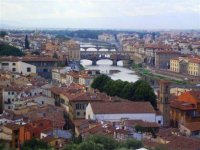 The language school Europass spreads and teaches the Italian language and culture since 1992
. Accredited by the Region of Tuscany the school offers high-quality programs and services designed for everyone between 14 and 99.
Europass is located
in the historical center of Florence
. The bright classrooms are perfectto study the Italian language. Romantic balconies and a spacious lounge invites you to have conversations, watch a movie or just to relax your mind.

Anyone willing to study Italian in Florence can find a wide choice of courses at Europass:
general language courses
specific courses for professionals
exam preparatory courses for CELI, CILS, CIC
combinations with Wellness, Cooking, Culture, Art, Photography, Jewelry Making and Design
special seasonal offers
summer school for juniors
programs for adults over 40
According to the classification provided by the European Common Framework for foreign language teaching there are six levels of learning from beginner (A1-A2) to intermediate (B1-B2) and advanced (C1-C2).

Each course includes 3 different kinds of evaluation:
an initial evaluation on the starting date that allows the student's placement into the adequate level;
an weekly, intermediate evaluation to assess the learning process;
a final evaluation designed to verify the goals achieved.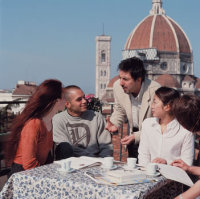 Classes consist of
minimum 3, maximum 12 students
of different nationalities. The small size of the classes guarantees individual attention allows to maintain a high teaching standard.
The teaching method is based on modern and innovative principles
that immediately enable the students to communicate easily and confidently in everyday situations. Therefore the
lessons are motivating, effective and clearly structured
and deal with subjects regarding everyday life but also fields of each single students' interest.
The main focus is on studying grammar and on systematic learning and strengthening of those various subjects.

Teaching materials include:
textbook
videos
didactic games
various literary excerpts
articles taken from newspapers, magazines
any kind of authentic material (adverts, timetables, TV programs, pictures, etc.)

What distinguish Europass from other language schools?
Europass staff is always at the students' disposal for any question and they can talk with them directly and confidentially at any time.
Europass teachers are enthusiastic, friendly and always open to communicate. All of them are mother tongue Italians and highly qualified in the teaching of Italian as a foreign language. Furthermore they have gained long-time experience in the fields of history, art, music and literature makes them ideal guides to anyone wishing to approach the Italian language and culture.
Europass recreational offers are entertaining and informative such as guided visits, film shows, wine sampling, dinners in typical restaurants, excursions into the Tuscan countryside, sporting activities and many more.

Europass service includes:
accommodation service (in well-selected shared or private apartments, host families or hotels)
information service (detailed facts about all public services available in town)
media loan service
free Internet access and Wireless area
(if requested) assistance for visa procedures