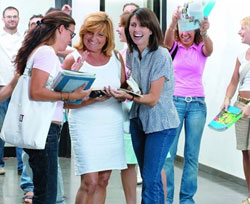 A SEDUCTIVE LANGUAGE: ITALIAN. In a recent poll by the American TV station CNN, our language is the sexiest language in the world. Rich in soft tones and linguistic nuances, Italian is a charming potpourri of language and culture. We at Lingua Più will make your "Italic experience" unforgettable.

Founded in 1998, Lingua Più is recognized as a training center by the Italian State, Umbria Region, CELI, CSN. It is member of Italian in Italy association.

Lingua Più has its main site in Città di Castello, the beautiful main town in the Upper Tiber Valley, with a branch in Sansepolcro, Arezzo. Lingua Più is in a very convenient place: from here you can reach some of the most touristic places in Italy in just few a kilometers.

Unique in the world, we apply the Montessori Method, the most famous pedagogic method in the world, to teach the Italian as a foreign language. Why? Because with our "natural learning" methodology, learners of all ages can learn faster and better. The development of personal abilities and a respect of each student's pace are an essential part of all our courses, one - to - one or in small groups. Didactic is personalized and structured to improve the linguistic competences, following each student's aptitude.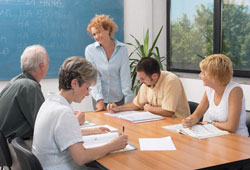 All our courses can be organized in a blended way: in a formal environment (the classroom) and in informal environments (tours and cultural visits), with activities chosen by the students.
We welcome students of all ages and from all countries, with all kinds of linguistic needs. Choose one - to - one, semi-individual or small group sessions. We offer:
courses of Italian language, any levels
courses for professionals: interpreters, translators and teachers
courses of business Italian
CELI exams, suitable also to get VISA
Typology of the courses
One - to - one
Semi-individual: from 2 to 4 people in the group
Small groups: from 5 to 10 people in the group
Weekly courses

Locations of the courses
- Umbria: Città di Castello and Perugia
- Tuscany: Sansepolcro

The full immersion program "La Bella Lingua" is an unforgettable experience. It is not only a course of Italian, but a whole immersion on our culture. Something so unique and amazing that it can hardly be described in words
During the tour "La Bella Lingua", participants can improve considerably their Italian during the "traditional lessons" in the classroom and practice with people they meet during the activities. Italian lessons during the visit in museums, walking along the Tevere River, during the Vintage Vespa tour, are just some examples of activities you can take part, during the "La Bella Lingua" program. Tell us what you would like to do in Italy, and we will transform it in a pleasant didactic activity.

Here in Lingua Più we offer refresher courses for language teachers on the application of the Montessori Method in language teaching. Courses are addressed to all language teachers for adult learners - program MMA, and children - program MMC.