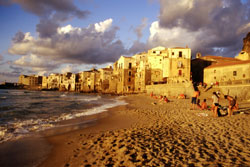 Our school is located in Cefalù, a few steps from the sea, and in the city center and close to bars, supermarkets, shops and restaurant on the first floor of an ancient building.

Classrooms are bright and quiet, our courses are in the morning from 09.30 to 12.30. Within the lesson the teacher aims to develop the 4 language skills, paying particular attention to the conversation. The materials used are many for example in addition to text books we use "realia", dvds, cooperative learning, lesson in situation, role play etc.

The types of courses offered are wide, from standard courses with standard programs to more personalized ones and to one to one tuition. In the afternoon, students undertake a cultural program only if they will with free and paid activities including guided tours, Sicilian cooking classes, boat tours, and various tastings of typical products and much more. In special cases, lessons can take place in the afternoon and in the students' own accommodation. At the end of the course they will receive a certificate of attendance.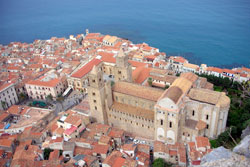 The student can book a language course also without any accommodation. Mediterranea Sicilia is in fact a small tour operator that organizes courses for students with a precise and flexible cultural program and offers a wide range of accommodation, from family accommodation to apartment or studio or to Students Residence with single or double rooms , or to hotels or Bed and Breakfast. Most apartments are very close to the sea, near the beach and in the city center, or at a short distance of about 800 meters, within easy walking distance. More information you will find on our website.

The school also organizes transfers from the airport to the various accommodations, and cultural tours and activities that are not for tourists, but we select those places or experiences that can give the student the opportunity to learn more about that part of Sicily people usually do not know when they are on holiday.

Our excursions, or cooking classes or family dinners are opportunities for interaction and knowledge: the birth of new friendships.