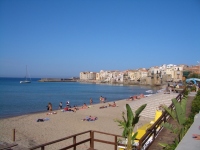 Culturforum a small quality school Learn Italian. Discover Sicily, experience the Italian way of life Culturforum is located in a 16th century building in the very heart of medieval Cefalù, a lively seaside town with a typical Mediterranean atmosphere on the northern coast of Sicily: the sea, the unspoilt natural environment, the hospitality of the people and the rich cultural heritage make Cefalù the ideal place to combine learning Italian and experiencing a slice of Italian life with an enjoyable and stimulating holiday.

ITALIAN LANGUAGE COURSES: LEARN THE REAL ITALIAN
The school was established in 2000 by two linguists deeply involved in foreign language teaching. Since then it has acquired an international reputation: quality teaching in a friendly, informal, and stimulating atmosphere and personal attention to the students' needs and requirements on the part of the entire staff have become the school's distinctive mark. Our language courses in small groups (maximum 8 students per class, but 4/5 on average) are learner centred and built around the students and around their previously acquired knowledge and linguistic competence.

Our primary focus is to improve language for communication so that, once out of classes, students can be able to cope with the most different day-to-day communicative situations. Our main aim when planning the courses is our students' satisfaction and the maximum progress. This is the reason why we prefer a flexible class design which enables us to meet more effectively the needs of the diverse groups and of the individual in a group. At school you will meet friendly and dynamic professionals always ready and willing to help you learn our language and discover our historically rich culture and the traditions and hidden charms of our beautiful land. Standard, combined and intensive Italian courses One-to-one tuition Two-to-one Italian for special purposes (business, medicine, tourism...)

CULTURAL SEMINARS
Find out the Italian culture, history and lifestyle. Our Italian language school offers a series of seminars which can be combined with your Italian language course. The goal of the seminars is an in- depth discussion of topics relating to diverse aspects of life and culture in Italy or Sicily History of Italy and Sicily Italian Literature Art History History of the Italian language.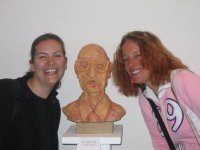 FREE TIME ACTIVITIES
Discover the rich cultural heritage and enjoy Sicily. Right in the middle of the Mediterranean Sea, Sicily can boast some 6000 years of history. Since prehistoric times different peoples landed to the "Wonderful island of Helios", the God of the Sun, attracted by its beauty, fertility and luxuriant vegetation. The island has been a real crossroad where different races and civilisations merged, and has seen many different cultures flourish on its soil, which have left behind a rich cultural, historical and artistic heritage and a trail of impressive monuments, buildings and works of art which still today inspire wonder and admiration. As we believe that learning a language should not be confined to time spent at school we organise a rich and varied social programme and a range of visits and excursions, that will take you off the beaten track to allow you to discover the real soul of Sicily. Excursions to archaeological and artistic sites Natura walks Sicilian wine and food tasting Bike and boat tours.

ACCOMMODATION
Choose how to feel at ease Cefalu is the most celebrated seaside resort in Western Sicily, a favourite destination for tourists and Italians alike. Endowed with excellent tourist facilities, it's the ideal spot for passing a relaxing and enjoyable holiday. Various types of accommodation are available, so we can offer you different solutions for your accommodation requirements: Studios and apartments in the town centre Houses and villas by the sea Hotels accommodation Lodgings with local people What we set our heart on at Culturforum is to make your stay in Cefalù a unique and memorable experience. We look forward to welcoming you to Sicily...