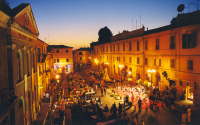 THE LOCATION
Travellers seeking an alternative to Tuscany and Umbria should not miss le Marche, the third region that makes up central Italy. This region is situated on the eastern side, between the Adriatic Sea and the high Apennine mountains and much of it remains unspoilt by the ravages of mass tourism. Centro Culturale Conero is an Italian language school based near the centre of the lovely small town of Camerano. Set on a hill (231 m.), surrounded by picturesque countryside studded with vineyards, sunflowers and olive trees, Camerano is an ideal starting point for naturalistic excursions to the Cònero Nature Park, which we regularly organize with our students. Since 1997, the school runs courses and activities throughout the year, helping class members discover the culture and daily life of this spectacular corner of the region, not far from Ancona and from the beautiful beaches of the Riviera del Conero.

ITALIAN LANGUAGE COURSES
We offer extensive, intensive and super-intensive group courses in small groups (max. 9 per class / average 4/5) and all kinds of individual courses (general or for specific subjects). We also organize special courses (Italian cooking, Wines, Diction for Opera Singers, History of Italian Art/Cinema / Theatre/ Music etc.). The group courses are divided into 6 teaching levels, from elementary to advanced, according to the Common European Framework of Reference for Languages and are led by by fully-qualified native teachers, who really love to teach Italian and do it enthusiastically, achieving great results. Our lessons are held in 7 comfortable classrooms, in a friendly and homely atmosphere. The school is close to the hotels, apartments and families where our students are usually lodged, and to the bus stops (10/15 minutes away from either Ancona or the seaside). Students at Centro Culturale Conero have free access to e-mail and Internet services directly from the school (wi-fi). Students will profit from the intimate learning environment of a school where everyone knows each other by name and will appreciate being the only foreigners in this small but lively town and speak Italian wherever they go (shops, restaurants, ice-cream parlours, bars, etc.)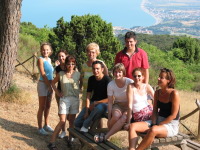 FREE TIME
We organize weekly guided trips and excursions to artistic and atmospheric towns of the region: Urbino, an absolute 'must' for lovers of art and architecture; Ascoli Piceno and its austere medieval beauty; historic Fermo and Osimo with their splendid views; Recanati, birthplace of Giacomo Leopardi, Italy's great poet, and of legendary tenor Beniamino Gigli; Loreto fabled site of one of Christianity's great Basilicas; Jesi, home of the composer Giovanni Battista Pergolesi and now the site of the Enoteca Regionale, etc. Naturalistic trekking guided tours to the Conero Natural Park, the Sibillini Mountains, the Frasassi Caves (another regional 'must'), the Furlo Gorge etc. Wine-tasting tours in some of the leading cantine and enoteche of the region Afternoons dedicated to cooking Italian specialities or assisted watching of Italian movies Rich dinners in typical restaurants at the seaside or deep in the countryside Concerts, nights at music bars on the beach & Dancing parties organized by the school.

ACCOMMODATION
Upon request we will help you find comfortable and convenient accommodation in Camerano or the surrounding area. Lodging will be provided in nice apartments for your exclusive use or shared with other course participants, hotels, agriturismi (ex farms), or in selected families, where students will be able to practice their Italian communication skills in an atmosphere of day-to-day family life.

FEEDBACK
Over 25% of our students every year come back to Camerano at least once to continue their studies at CCC. Given the more obvious attractions of some of the other learning centres in our beautiful country (Rome, Florence, Venice, etc.), we are delighted to achieve such a positive response from our valued students.