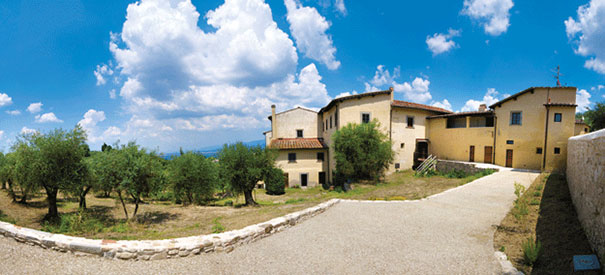 L'Olivo Italiano has bright and fully equipped classrooms inside a medieval charming building surrounded by beautiful olive trees, nestled in the countryside 4 km south of Florence, with a breathtaking view on his historical centre.

It's the ideal point of departure for excursions to Florence, Siena, San Gimignano, Pisa, Rome.

Classes are only held by qualified and experienced native Italian teachers and you speak Italian only from the very first day. Classes are suitable for all language proficiency levels, students are divided into homogeneous groups. Here the list of our courses of Italian language and culture:

COMPLETE
A thorough and general course to improve language skills and acquiring greater confidence while working on all four primary communication skills simultaneously: listening, reading, writing, and speaking.
INTENSIVE
The course combines the COMPLETE COURSE with personalized attention and focuses on achieving each student's own particular goals.
ITALIAN PILLS
Individual modules of approx. 100 minutes, to provide students with the ability to converse in a specific situation.
SURVIVAL PILLS
Mini-course to familiarize yourself with the fundamentals of the language, for those learning Italian for the first time.
SPECIALIZED ITALIAN
For students, researchers, or foreign professionals looking to improve their language skills in a specialized sector such as medicine, commerce, or law.
EVENING COURSES FOR RESIDENTS
Courses dedicated to those living in Italy permanently or for extended periods of time and who need to reconcile work and/or family commitments with their study of the language.
INDIVIDUAL LESSONS
Individual lessons tailored to your needs in order to achieve specific linguistic or communicative objectives.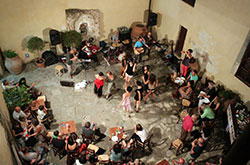 Lessons are never passive lectures. Being active in class and having fun while learning allows for fast, tangible and long-term progress. Learners are continuously encouraged to practice the oral language through pair works, dialogue building, games, discussion topics, interviews, role-plays, presentations etc. To this purpose classes are small and groups are composed by max. 9 persons. We use a wide range of teaching materials, which are authentic and regularly up-to-date, to ensure that your learning experience is effective and engaging.
Our courses are not only language classes but true immersions in the Italian world and culture. We wish to enable the dialogue and the cultural-cross between students, teachers and local people. To this purpose we invite all students to participate to the weekly FREE appointments: Italian cinema, Italian speed date (language exchanges) and Apericena!

It's also possible to combine the language course with one of our packages of social activities, choosing among:
Dolce Vita - Visit the region and taste local food and wine.
De Gustibus - Taste, experience and cook Italian food.
Naturalmente -Visit the surrounding area "at a walking pace" and find out more about the world of plants and natural medicine!
Scoprendo la Toscana - Visit Tuscany in an unusual way, on foot, in Fiat Cinquecento and on an old-fashion horse-drawn wagon
Scatti d'Italia - Discover the territory and its heritage from behind a lens of your camera.

We are more than happy to help you to find the best accommodation to meet your needs. We can arrange different categories of accommodation, choosing among: beds at Bigallo's Hostel in the same building as the school, homestay, flat share, private apartments, B&B or holiday farmhouses.